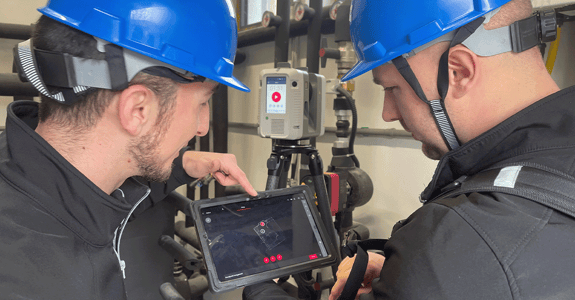 3D LASER SCANNING
Get detailed building information in a fast and cost-effective manner
WE SCAN
Buildings, facades
Manufacturing plants
Mechanical installations
– heating, ventilation, air conditioning
– sanitary and sewerage
– fire protection systems
Terrain
Open spaces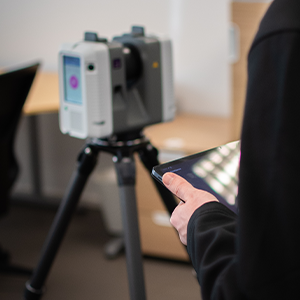 3D LASER SCANNING IN ALL PROJECT PHASES
DESIGN
Many professionals use scan to BIM method to obtain detailed information in order to start the design process and manage the entire project.
After scanning, the data from the point cloud is converted into a 3D model.
Construction coordination
Scanning can be done at any time within the project timeframe to document milestones and reduce the need to change orders.
Data is shared between participants to achieve remote coordination.
Scanning helps identify errors and come up with quick solutions.
CLASH DETECTION
3D laser scanning is used to mitigate risk and minimize collisions
.
It provides detection of inconsistencies like equipment that is not the right size or improper placement of pipes in order to
avoid conflicts between different systems such as plumbing, electrical, HVAC and more.
RENOVATIONS, RETROFITS & DEMOLITION
3D building scanners capture a high level of information, this lets owners and facility managers generate a comprehensive as-built record. Finally, this information can assist with building operations, renovations, future additions, and even demolitions.
3D Laser Scan:
The main advantages
Rapid capture of data
Data is collected at high speed, so that information on millions of points is collected within a few seconds.
This allows you to scan large areas in a short time and 3D laser scanning is ideal for projects that have a sensitive time frame. High speed of data collection also reduces the working hours for the measurement to be performed, as well as the shorter "stop time" and the overall interruption of a process.
Capturing of hard-to-reach areas
Measurement and collection of information performed from a remote point, which enables the measurement of hazardous and hard-to-reach areas.
Areas can be measured without the need for close physical presence.
Non-contact data capture
Non-invasive method of measurement makes 3D laser scanning an ideal method for measuring and recording cultural and historical monuments and cultural heritage that need to be preserved.
3D laser scanning allows scanning to be performed with minimal or no physical interaction.
Detailed and precise documentation
3D data collected through the scanning process is comprehensive, so almost every detail is captured. The probability of error is minimized with very little risk.
This wide level of detail eliminates the need to completely revisit the scan site.
The process of collecting detailed documentation also allows users to repeat visits to the scan site virtually via a point-cloud tour or with the help of the interactive 360-degree images.
Time and cost savings
Save time and costs with 3D laser scanning through the nature of fast collection and reduced risk of injury on that occasion.
Time and cost savings result in lower costs per client, less downtime when scanning, and less need for security measures when performing scanning activities.
Requirements for a 3D scan
Secure and stable scanner set-up points for the scanner tripod
Only non-moving objects can be captured
Only in dry outdoor weather conditions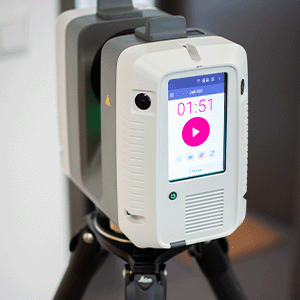 What is 3D laser scanning?
3D laser scanning is the acquisition and measurement of environments in 3D, which create a basis for 2D plans. Laser beams are emitted, and the time is measured until they are reflected and returned to the device.
How does 3D laser scanning work?
The device emits laser beams spherically and measures all objects visible in it. In parallel, a 360° photo is taken to obtain the RGB colors.
In order to minimize so-called shadows, hidden areas that are not visible from the scan standpoint, several scans must be made from different positions to achieve the best possible result.
What is the final product?
The result is a 3D point cloud, whereby the points provided with spatial coordinates reproduce the visible surfaces of the captured objects in 3D. In addition, a photo documentation of linked 360° photos in BIM and REVIT follows.
What can 3D laser scanning be used for?
Useful applications for 3D laser scanning are, for example:
– Documentation of existing facilities, which must be considered during planning
– As-built documentation
How long does a scan take?
Depending on the installation density and the scan resolution, a scan takes between 1-2 min. per recording point. Each recording point covers on average between 10m² (technical center, high resolution) and 100m² (large open space, architecture only, low resolution) depending on the viewing area.
The final processing (the registration) requires about 20% of the total recording time.
SEND US YOUR REQUEST
* mandatory fields