MODELING SERVICES
Our Modeling Services
HVAC BIM services
3D Revit BIM modeling
Electrical BIM services
BIM coordination services
Clash detection
Conversion of 2D design to 3D models
Point cloud BIM services
Creation of a BIM model based on a 3D laser scan
Consulting services
BIM management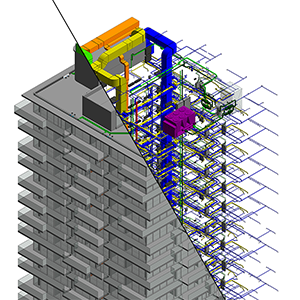 Technical building design
WITH THE BIM METHOD
BIMEXPERTS provides high-quality technical design for building projects by using the BIM methodology.
We create energy-efficient HVAC structure design i.e. Heating, Ventilation, Air-Conditioning, Sanitary and Electrical that covers the full range of HVAC BIM Services.
Our know-how and extensive experience make us a reliable partner to general contractors, building owners, engineers and architects.
We are making the BIM process work efficiently for any type of project from healthcare, industrial, residential, to commercial projects.
Feel free to contact us either by filling the form below or by e-mail.
Our leading experts will provide you with the right solution, all while considering your budget.
Modeling with BIM
HOW THE BIM PROCESS WORKS
BIM acronym stands for Building Information Modeling. We use Revit (Autodesk) and other leading software in the industry to design and model HVAC systems.
Our team of engineers and modelers use BIM to create precise and detailed complete virtual 3D model of your existing HVAC systems, as well as create models of proposed new systems.
BIM is not used only as a visualization tool, it is a process that enables the creation of a shared data-rich model.
This model is available for all those that are involved in the project process: from the designers of the buildings to the construction companies, and finally the property owners and managers.
Why choose BIMEXPERTS?
We care for our customers
We are committed to understanding our clients' project needs. Our goal is to find the perfect solution to your inquiry. We are always reachable for our customers and prepared to timely respond and react to a change or adjustment in the project.
High-quality results
Important decisions and calculations are made early in the design process resulting in improved quality in the design and construction process. Using BIM makes calculations and models more detailed and accurate, and this results in a higher quality structure.
Faster project completion
By using BIM we have improved our workflow resulting in less time to design buildings. We have better communication, coordination, and collaboration on projects. All aspects of the design and planning phases become easier to manage and faster to complete.
Lower cost
Improved project management and communication leads to time and cost savings. Because the process takes less time to complete, total billable hours are reduced. Mistakes are identified in an early stage, before construction starts, reducing unexpected costs and delays during the construction process, minimizing the risk.
Detection and resolution of clashes
Improved project coordination and detection of conflicts or clashes before they occur. With the use of BIM modeling, clash detection process takes place during the preconstruction phase, allowing any possible issues during construction phase to be fixed before the construction begins. This saves significant amount of money and time in all phases of a building lifecycle.
Single source project
Everything is shared and stored in a form of a single source project. We have evolved from file exchange to live collaboration in the cloud. One of the greatest benefits of using BIM for us is the collaboration it enables between designers, owners, and builders. We share the same information and this improves our design and decisions making process. All included parties can see the latest design and document their changes.
SEND US YOUR REQUEST
* mandatory fields